Traverse City Record Eagle
By Dance Nielsen
April 1, 2018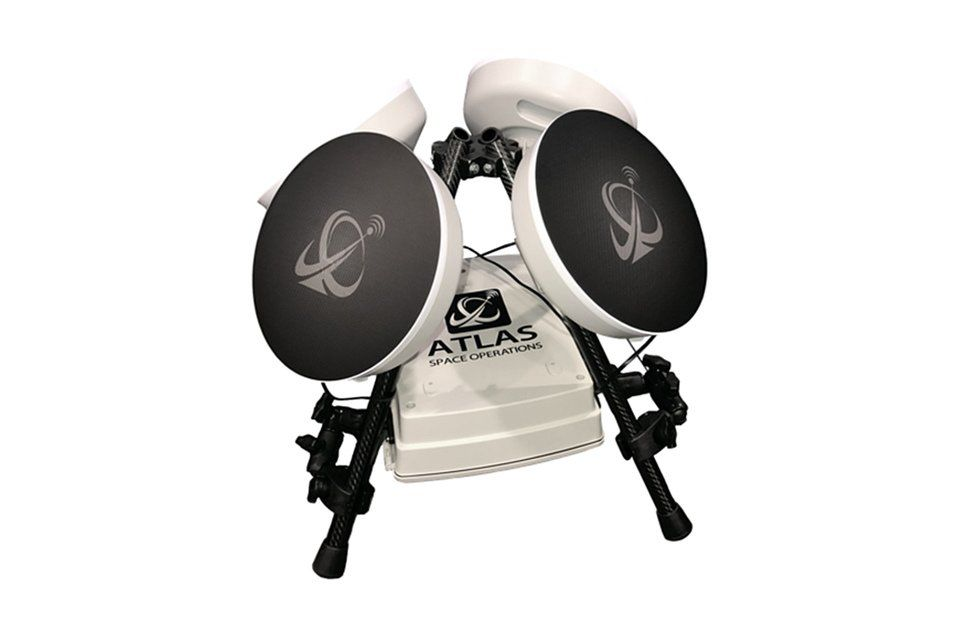 NASA believes Traverse City-based Atlas Space Operations may hold a technological key to the future of satellite communications.
The government agency this month entered into an agreement with Atlas to test and develop the company's portable ground-to-satellite communications technology.
"We can pick up remarkably weak signals," Atlas Chief Strategy Officer Mike Carey said of the company's Atlas Links device.
That ability is essential in the increasingly crowded universe of satellites. The portable, internet-managed device uses an antenna array that leaves traditional parabolic satellite dish antennas in the dust.
"Instead of using one big ear, we've figured out how to use many little ears," Carey said.
The system grew from recent rapid developments in computing power, he said. The device uses an array of antennas, massive computing power and algorithms that can isolate even weak signals.
"Atlas Links systems are mobile structures with four antenna units — each less than 10 pounds — that constantly survey the sky for spacecraft signals," a NASA release stated. "They can be set up and taken down within minutes and only require access to internet and power."
Existing ground-based communications technology uses standard satellite dish-shaped antennas that must be aimed at the distant signal source. Weak signals require large dishes. Those are expensive, unwieldy and relatively awkward to move and set up. Larger dish antennas typically are installed permanently at a single location and have limited windows of opportunity to communicate with orbiting satellites.
"Portable ground antenna stations could transform NASA's space communications capabilities," the release said. "With access to undeveloped regions, the mobile systems could bolster the return of spacecraft science, instrument health and other data to Earth."
The Atlas Links device is small and portable. It weighs 55 pounds and stands 28 inches tall.
"The size of it and deployabilty is a big advantage," Atlas Chief Operating Officer Mark Malosh said. "It's quite a breakthrough, really."
The device provides a quick and easy way to set up temporary ground stations in areas where NASA doesn't have permanent structures, according to the release. It also could supplement backup measures at current NASA ground stations to ensure mission data always reaches the ground.
The Atlas Links device can receive data from multiple satellites simultaneously, the NASA release said. After testing and development in the NASA lab, the device will conduct live "shadow" passes of missions currently supported by NASA's Near Earth Network. Those field tests will validate whether the platform could one day support NASA's communications networks, according to the release.
The NASA deal carries big benefits for Atlas.
"Continued collaboration with NASA gives credibility to Atlas," said Carey. "Partnering with a world-renowned organization is validation of our business. You don't get much more serious than NASA."
Enthusiasm for the deal flows both ways.
"They were just as excited about this as we were," Malosh said of NASA representatives.
The NASA release mentioned Traverse City, where Atlas moved after starting up in California.
"NASA and Atlas Space Operations, based in Traverse City, Michigan, are collaborating to test and develop this technology," the release stated. "The company's compact, internet-managed antenna system called Atlas Links will undergo testing at NASA's Goddard Space Flight Center in Greenbelt, Maryland, to determine its compatibility with NASA's ground-based communications network, the Near Earth Network."
Carey said Atlas currently employs 13 people, most of them in Traverse City, including Orbital Analyst Hanna Pritchard, a Traverse City local who has a masters degree in mathematics. Some workers are based in other locations, including California, close to customers and potential customers. The company plans to hire more people, Carey said.
Malosh and Carey said Atlas has four main business focuses:
Strengthen its foothold in government relationships with NASA and NOAA.
Increase commercial contact with small satellite operators.
Dig into business with launch-and-early-orbit (LEOP) companies.
Sell its antenna system design as a hardware commodity.
Carey said Atlas management wants to expand local ties by connecting with local manufacturers to produce Atlas gear.
"We want to add jobs, to grow employment in manufacturing and assembly" in the area, he said.
Technology is moving forward at a fast pace, Carey said, and there's no time to waste.
"The future is now, not next year. It is happening now."
To learn more about NASA's communications networks, visit: https://www.nasa.gov/scan.