Traverse City Business News
In Issue 2017 August, Technology 
By Rick Haglund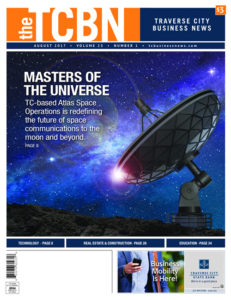 In July, NASA released up-close images of Jupiter's famous red spot taken by the Juno spacecraft.
But these startling images were unrecognizable before they were translated from the special code used to transmit them.
Data from a satellite, or "telemetry," is designed so a lot of information can be transmitted in a very short time. Only a few companies worldwide can receive it, manage it, and push it to the consumer.
That's where Traverse City-based ATLAS Space Operations Inc. comes in.
The ATLAS network provides affordable cloud-based solutions for space access in the rapidly growing global space market.
"You could not have done this 10 years go," said ATLAS' chief operations officer Mike Carey, a retired U.S. Air Force Major General.
From a growth standpoint, small satellites and the information they transmit are booming.
More than 1,450 satellites were in orbit at the end of last year, a nearly 50 percent increase over the past five years, according to the Satellite Industry Association.
Carey, a native Michigander, grew up in Grosse Pointe and Gaylord, and moved ATLAS' headquarters from Encinitas, California, to Traverse City in May shortly after the company received its lead funding from Traverse City-based Boomer
On the ATLAS relocation, a recent press release quoted Boomerang's principle, Casey Cowell, co-founder of U.S. Robotics, Inc.
"This is a major step in Traverse City's growth as a tech hub," said Cowell, a Detroit native who now lives in Traverse City. "ATLAS is a great example of a technology-based company looking to take advantage of the wealth of engineering skills located here in Michigan."
Governments, academia and private companies are launching small, low-orbit satellites to serve a variety of industries including agriculture, construction and telecommunications.
"We started with the intention of modernizing a calcified and conservative industry that was happy to replicate what others were doing instead of innovating," Carey said from his temporary Front Street quarters.
Founded in 2017, ATLAS uses advanced antenna networks and cloud-based computer technology to offer satellite management and control services to customers at a third of the cost of older "legacy" competitors.
Carey said the company can process data "hundreds of times faster" than legacy companies can.
The company "is set to change the space industry in a massive way," according to an analysis of ATLAS by Space Angels, a group of angel investors focused exclusively on early stage space companies.
Space Angels members have an undisclosed financial stake in ATLAS.
Carey said he anticipates the company will eventually employ 20 to 25 people, adding that he sees an opportunity to create a "space hub" in Traverse City that could draw other companies to the area.
The small satellite market is expected to grow from $2.28 billion in 2016 to $7.66 billion in 2023, according to Orbis Research in Dallas. Those growth projections are what prompted Cowell to invest $500,000 in ATLAS.
"Now that the cost of building and launching satellites is down, the number of launches has risen dramatically," Cowell said. "There are only three other communication centers in the world receiving signals from low-orbit satellites, and their technology is antiquated."
While still considered an early stage company, Carey said ATLAS has several contracts with satellite operators and is generating revenue.
He declined to reveal revenue figures or how much venture capital ATLAS has raised. The company is planning a second round of funding later this year and expects to break even in 2018, he said.
Its biggest contract is a five-year pact signed in January to provide satellite communications and data services to the National Oceanic and Atmospheric Administration. ATLAS recently completed a ground station in Ghana, Africa, that will aid NOAA in hurricane analysis and other research. It also has partnered with Astrobotic, a lunar logistics company, to deliver and operate the first-ever laser communications terminal for Astrobotic's upcoming mission to the Moon.
Although Carey has relocated, several of the company's top executives remain in Encinitas. He said he doesn't anticipate having trouble finding the kind of technical workers he needs to staff his company.
"I recently received an unsolicited resume from someone who was fully qualified to work for us. I said, 'Where in the heck did you come from?' It turned out he'd worked for one of the biggest satellite companies in the industry," he said.
"I'm amazed at the talent base here."