MyNorth 
By Ross Boissoneau
June 7, 2017
Could Traverse City become a tech town? Many of those with connections in tech industries say it's already on its way. Start with TC New Tech, the monthly gathering/pitch night for all things technology. Russell Schindler started the monthly meet-ups in hopes of helping technology gain a foothold locally, as like-minded entrepreneurs gathered to discuss …
Could Traverse City become a tech town? Many of those with connections in tech industries say it's already on its way.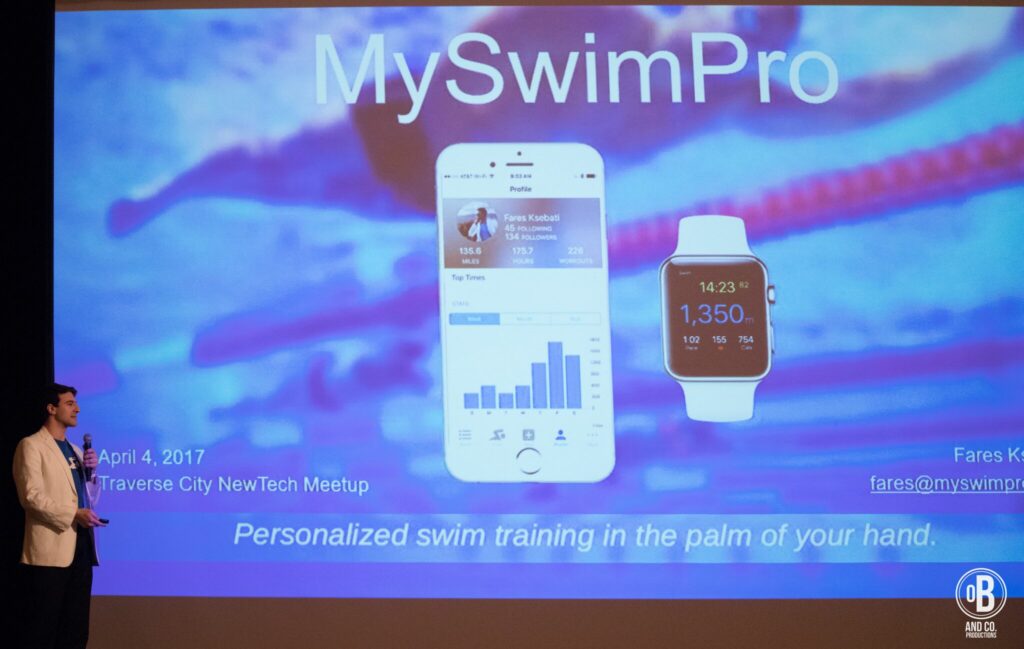 Start with TC New Tech, the monthly gathering/pitch night for all things technology. Russell Schindler started the monthly meet-ups in hopes of helping technology gain a foothold locally, as like-minded entrepreneurs gathered to discuss ideas. "I knew there was a tech bunch here, they just worked in their basements and spare bedroom," says Schindler with a laugh. Schindler, a geologist by trade, runs SampleServe, an environmental testing company.
This June will be the two-year anniversary of his first attempt at gathering tech-heads, and it seems to have worked. "I thought, if I can get 20 to 30 people to show up, that will be a success," Schindler says. The first meeting nearly doubled his expectations, with between 55 and 60 people. "I thought, wow, that's amazing."
It's grown every month since then, to over 200 people at the last event. The get-togethers have grown into part Shark Tank-style pitch night and part announcements of upcoming events or activities. The networking before and after the official meetings has also become crucial in pushing the envelope.
Among those involved in the monthly meetings early on was Casey Cowell. The founder of modem kings USRobotics, Cowell is now principal at tech funder Boomerang. He was an early convert to the charms of Northern Michigan, moving with his family to Elk Rapids in 1991, and subsequently relocating to Traverse City. "Traverse City is a great place (and) has a lot to offer. The internet is flattening the world—it's possible to live and work wherever," he says.
He believes the tech sector is larger than it's given credit for. He cites the members of TC New Tech, of which he is a board member. "In 18 months it's gone from 15 to 700. I don't think they all show up on the STEM report. They don't all get picked up on the reporting.
"My view is the community of internet and value creation skill sets begets more of the same. That and access to capital. There's nothing stopping it."
TC New Tech spawned Startology, being touted as a tech incubator. The office for tech entrepreneurs is located at the Old City Hall on the southwest corner of Cass and State Streets downtown. Schindler says it will have 18 offices and offer learning and consulting opportunities as well from investment groups like Northern Angels or groups such as SCORE, an organization of active and retired business persons who act as advisors to fledgling entrepreneurs or companies. "We'll have programming like SCORE every Thursday, for example," says Schindler. "I'm moving my office there."
Local businessman Lowell "Jep" Gruman believes TC New Tech and Startology are crucial to tech success in Traverse City. "New companies have a place to start," he says of the new office. "They can learn to manage, capitalize it (their company), govern it, etc.
"There's a groundswell of interest. I'm optimistic we'll continue to bring new companies to Traverse City."
It's not all startups either. ATLAS Space Operations, which specializes in cloud-based satellite management and control services, has moved its headquarters from Encinitas, California, to Traverse City (see the story below). ATLAS COO Mike Carey says one advantage of such firms is they have a significant impact on the local economy without stressing the environment. "Tech has a low impact footprint," he says.
Slightly closer to the surface, Traverse City is becoming ground zero—or air zero—for unmanned aerial craft. Drone companies such as Eagle Eye, Blue Lava Media, Zero Gravity Aerial, SkySkopes and others are calling Traverse City home, and NMC is now holding drone classes. Drone companies are involved in industries as diverse as real estate, agriculture, oil and gas and weddings (read more about drones in Northern Michigan).
Technology encompasses many fields. Fashion model Anina, a Traverse City native who was named China's top international model, is incorporating technology into design, including embedding LED lights in clothing. She recently returned to her hometown and met with the Traverse City Chamber of Commerce and gave a presentation to the Junior Achievement class at Traverse City Central on entrepreneurship, fashion tech, and how to think about creating a product.
Watch Anina's presentation at TCC:
She's also touting the Maker Movement, and her 360Fashion Network was a participant in the Traverse City Maker Fest. Students used Anina's LED Ribbons in their projects and demonstrated them to the audience. She also was involved in a video about visibility and biking along with video tutorials about 3D printing on the e-textiles.
Technology in the classroom has taken on many roles, from computers and tablets to research and communication. Former NMC instructor Darla Kay Hill helps instructors and students keep their heads above water with Immersive Wave, offering consulting services for those looking to use technology in the classroom. "It's great to see Traverse City turning into a tech hub," she says. Like Cowell, Gruman and Schindler, Hill is on the TC New Tech board.
In addition to offering expertise to teachers, she sees her role extending beyond K-12 and secondary institutions into the corporate world. "I show teachers how to use technology and show companies how to use technology in training," she says.
Technology reaches even further than one might expect. Attorney Tony Klemptner is another board member at TC New Tech. He says as a patent attorney he's often involved with tech-related issues. "It's been exciting to see the creativity," he says.
Klemptner moved to the area three years ago from Detroit, which is touting itself as "Startup City." While Klemptner acknowledges there is more going on in Detroit—after all, with over 4,000,000 people in the metro area, its population dwarfs that of the entire region—he says he was pleasantly surprised at the amount of innovation, invention, and investment in Traverse City. "For a city this size it's impressive," he says.
Cowell believes the local economy can go in one of two directions. It can either totally embrace the tourism economy or become more diversified into technology and manufacturing. As exhibit A, he points to locales such as Key West or Provincetown. "It's seasonal, with seasonal jobs and infrastructure overload during the busy times," he says.
Or it can take the tech approach, where as an example Cowell cites the Traverse City weather instrument company, R. M. Young. "You make (something of) value and ship to other continents. The money flows into the employees and gets invested here, saved here. That will drive this economy forward. That's a direction I think we should go in, tech-oriented yet highly creative."
Gruman, also a member of Boomerang, agrees. "The idea is to bring high value-added jobs to Traverse City and break out of the agri-biz/tourism constraints," he says.
Max Anderson hopes that is the case. The executive director of the Traverse City Area Chamber of Commerce says it's important to embrace what is already here, namely those businesses supporting tourism and agriculture while expanding into new business models to keep the economy vibrant and stable year-round. "We have no shortage of entry-level jobs, (but) not a large amount of highly-skilled jobs," Anderson says.
Those are the kind of jobs that technology promises, which tend to attract younger people. That's especially important as current population trends indicate a "graying" of the area, with more retirees moving here, while younger people seeking opportunities move away. "Bringing industry and high-tech brings in other sectors and ancillaries," adds Anderson. "We want to keep the influx of retirees but we can't neglect other segments."
Satellite Company, ATLAS, Moves to Traverse City
Perhaps Mike Carey was just tired of the commute. After all, traveling regularly from Traverse City to California can get old. Or maybe it was the funding from Traverse City-based Boomerang Catapult LLC that helped convince the rest of his company. Whatever the reasons, satellite command and control company ATLAS Space Operations Inc., which offers cloud-based access to its integrated, global network of satellite antennae, has relocated from Encinitas, California, to that new hub of all things tech—Traverse City.
"We're excited to come to Traverse City, and we're pleased that Boomerang shares our vision for Traverse City as the next hub for space industry operations in the US," says Sean McDaniel, CEO for ATLAS, in a statement.
Carey, the company's COO, probably just heaved a sigh of relief. "My wife and I had a home here," he says. Though the move made sense for him, he said that was not the only or even the overriding factor, though his familiarity with the region certainly helped. The city's burgeoning reputation influenced the decision, as did the economics. "We're catching the wave others have been developing," he says. "The cost of doing business here (also) led to moving from California to Michigan."
Carey says Michigan's longstanding reputation as a manufacturing capital is helping the state as it continues to recover from the recession and transitions to other industries. "Michigan has been a leader in tech. That's part and parcel of the state," he says. "Michigan has undergone a renaissance, and it's not all automotive. It's got great engineers, great thinkers—it's got everything we need."
Casey Cowell, principal for Boomerang and senior member of the investment team, also believes the move demonstrates the city's increasing visibility and vitality in the tech sector. "This is a major step in Traverse City's growth as a tech hub," he says. "ATLAS is a great example of a technology-based company looking to take advantage of the wealth of engineering skills located in the area."
Carey says his entire industry is experiencing unprecedented growth. "In 2013, 38 satellites were launched across the world. In 2017, in just one day in February, 104 satellites were launched. The low satellite industry has 500 percent growth," he says.
That obviously is a good sign for ATLAS, and its move here is equally good news for Traverse City and its tech sector. While the company works with the Economic Development Corporation of Grand Traverse County to find a permanent location, it is moving to Startology, the new tech incubator in the old City Hall building on State Street.
Russell Schindler, Chairman of Startology, is understandably pleased. "We are delighted ATLAS has decided to locate its operations in Startology's offices," he commented in the announcement statement. He says that ATLAS and the space sector it represents are examples of the technology-related businesses he hopes will take advantage of the building's anticipated collaborative spirit.